| | |
| --- | --- |
| Mountain Blog | |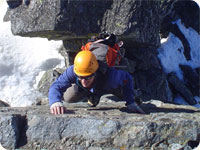 I created this blog to record my thoughts, dreams, hopes, and plans regarding all things mountains and climbing. It may be of little interest to anybody else, but oh well... If you get bored stop reading.
---
August 25, 2008
Eric Lee
climbed the Chicago Basin 14ers in one day from the Purgatory Trailhead. It took him 14 hours and 42 minutes to complete 42 miles and 12,000 feet of elevation gain. Here's a link to his trip report:
http://www.14ers.com/php14ers/tripreport.php?trip=5076
.
---
August 4, 2008 ~ Beating The Heat
I finally got to climb with
James Just
this past weekend. I've been an admirer of his web site for several years and he and I have been improving our skills and capabilities at roughly the same pace. We've tried to get together a couple of times but it never seemed to work out. This time it did.
It was great to get a large group of friends (James, Scott, Brian, and the Jamies) together to escape the record setting heat wave on the Front Range and head to the hills to play in the snow. We knocked out
Taylor Glacier
. Interestingly the snow conditions were the best I've experienced all year - nice and firm, but it took ice axe belays and step kicking perfectly. The top of the Glacier was really fun - the snow was as steep as 60 degrees and there was a cool snow fin we got to climb over.
Good times.
---
August 3, 2008 ~ 3:45
Eric Lee
completed a round trip ascent of Longs Peak (Keyhole Route both up and down) in a blazing 3 hours and 45 minutes. Here are his split times:
0:42 Jim's Grove Jct
1:17 Granite Pass
1:50 Keyhole
2:24 Summit
2:46 Keyhole
3:07 Granite Pass
3:45:28 Trail head
That dude's got some serious wheels.
---
July 28, 2008
Since
Apache Peak
I've been doing nothing but getting fat. Hopefully I'll be able to tackle something big this coming weekend.
Jeff Fox finally put up a web site. Check it out at
http://hangdoggydog.blogspot.com/
.
---
June 24, 2008 ~ Dan Epics In The Black
Dan
took a big fall in The Black Canyon of The Gunnison. It sounds like he's pretty beat up but he'll live. Here are a couple of his posts from brutestupidity.com:
"Well, to put a long story short... I epiced in the Black. I ended up pulling off a hold and falling 30 feet (on slabish 5.8 terrain) and cracked a rib and tor a back muscle (after a cam lobe stabbed me), and broke my nose and cut up my face from scrapping on the rock. So my first trip to the Black sucked! I am in recovery phase now and back home just sleeping, (still no insurance, so I have to sleep this one off.) Hopefully I'll be back climbing soon!!"
"Luckily we were fairly low on the climb, (also a little off route, part of the issue), and after the fall two park rangers (one a climber and the other an EMT) came to help. The lowered me off the first part of the first pitch, and then fixed a line for me to get down the 3rd class scramble to the gully. From the gully I had to hike out, (took forever! Very slowly.) Thanks to a good placement of a grew alien and a great belayer."
---
June 18, 2008 ~ North Couloir on Pacific Peak
While we were in the San Juans over the weekend the North Couloir on Pacific Peak saw an ascent by Adam McFarren and friends (
trip report
). This is the first time I've run across Adam McFarren, but he seems to get out a lot and is pretty active in CMC. He's got a real nice web site at
http://thejourneyishome.wordpress.com
. Check it out.
It doesn't look like I'm going to be able to make it out this weekend, so I'm not sure if I'll be able to get to some of the couloirs on my wishlist (like Pacific's North Couloir or Shooting Star on James Peak) this season. Bummer.
---
May 13, 2008 ~ Site Upgrades
I've added a
wish list of peaks and routes
I'd like to knock out with their respective mountainproject.com and summitpost.org links.
I've also begun to upgrade the maps for the trips. I'm using google maps to add multiple points of interest and the path that was traveled. It'll take me a while to update all the trips but I have already begun to update the more interesting ones - like
CMC Route on Mount Moran
.
---
May 12, 2008 ~ Pacific Peak
George Barnes
was up on Pacific Peak's West Ridge over the weekend. This is of interest to me because Pacific Peak's north couloir is pretty high on my spring to-do list.
George took this great photo looking down the couloir:
http://www.gb4mfg.com/mtn/trip_reports/pacific_5-11-08/IMGP6075.JPG
.
You can see all the photos he took here:
http://www.gb4mfg.com/mtn/Pacific_5-11-08.html
.
---
May 7, 2008 ~ Long time no blog...
I know it's been a long time since I wrote anything here and I debated just doing away with the whole blog thing. But I decided I'll try and give it one more go.
The spring snow climbing season has started a bit late this year due to weird snow patterns and crazy high wind. But things are finally starting to settle and I hope to start getting into the big mountains again soon.
My friends are starting to do some cool things too. Two recent trips to note are James Just and Brian Kraus ascent of
Martha Couloir on Mountain Lady Washington
and James ascent a week later of
Mount Bancroft's East Ridge
.
---
May 7, 2008 ~ The Danimal leads The Fang!
The ice season went long in Vail and Dan "The Danimal" Dalton was able to get up there one last time to lead The Fang! He didn't quite make it to the top, but still, it's an impressive achievement. Scott Borger went along and got some sweet photos. Check 'em out on
Dan's web site
.
---